Miskelly Brothers Ltd fined over Norman McCord death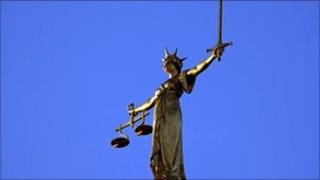 A health and safety consultant has been fined over a breach of health and safety law for the first time in NI.
Steven Jones, trading as Hazron Safety Services, had been engaged to carry out risk assessments on equipment involved in the fatal crushing of Norman McCord.
An employee of Miskelly Brothers Ltd, Mr McCord was killed by a block-strapping machine on 7 September 2009 at a block-making yard in Ballygowan.
The firm and Mr Jones both pleaded guilty to health and safety breaches.
Miskelly Brothers Ltd was fined £50,000 and Mr Jones was fined £4,000.
The block-making firm owns the yard where Mr McCord died.
After Friday's hearing, Mrs Nancy Henry, an inspector with the Health and Safety Executive for Northern Ireland said Mr McCord's death was a "tragic and preventable incident which happened because adjustments that were being made to the machine were poorly planned".
"The importance of carrying out meaningful risk assessments, which encompass all the activities carried out on a piece of machinery, has yet again been highlighted," she said.
"This is the first time in Northern Ireland that a health and safety consultant has been convicted for a breach of health and safety legislation.
"HSENI wants to send out a strong message that it will not hesitate to pursue through the courts any consultant who fails in his or her duty of care."
A new online directory to help businesses find an accredited health and safety consultant was launched in March 2011.
To date more than 2,400 accredited consultants across the UK have signed up to the online OSHCR Occupational Safety and Health Consultants Register.