New statue in memory of UDR is unveiled in Lisburn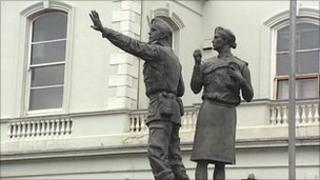 A bronze statue in memory of the Ulster Defence Regiment has been unveiled in Lisburn.
The regiment was formed in the city 31 years ago.
More than 50,000 people served in the regiment. Over 250 serving and former members were killed during its 22 years of duty in Northern Ireland and more than 400 were wounded.
The memorial, by sculptor John Sherlock, shows members of the regiment operating a vehicle checkpoint.
The Royal Irish Regiment was formed by the amalgamation of the UDR and the Royal Irish Rangers on 1 July 1992.