Lisburn Hilden Mill fire 'started by vandals'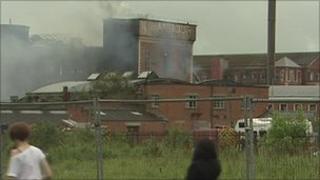 A fire that caused extensive damage to a Victorian listed building in Lisburn was started deliberately, the environment minister has confirmed.
Vandals got into Hilden Mill in May and set fire to plastic cables on the third floor.
Sixty fire fighters battled the blaze. Alex Attwood later praised them.
The top three floors of the mill were badly damaged and the roof partially collapsed. The building is owned by Hilden Developments Ltd.
It won planning permission for 600 homes at the site. It is ultimately controlled by Essex-based Galliard Homes.
A £45m loan from Irish Nationwide to Hilden Developments Ltd was transferred to the Dublin-based National Asset Management Agency (Nama) earlier this year.
At the time of the fire, Mr Attwood said he was willing to do whatever he could to preserve built heritage.
"Hilden Mill comprises a significant group of listed Victorian buildings, and proposals have been approved by my department for their conservation", he added.
"Hopefully those proposals will still remain on the table and not be affected by this fire."