Vandals lob concrete at ranger's car in west Belfast.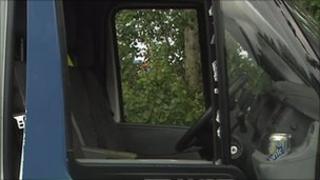 A park ranger has been injured after a lump of concrete was thrown through the window of his van in west Belfast.
It happened on Saturday night as he drove down the Springfield Road.
The ranger was treated in hospital for facial injuries but has since been discharged.
Sinn Fein Councillor Stephen Corr from the Council's Parks Committee said the ranger managed to keep control of his vehicle.
He drove away from the scene before stopping and getting help.
Mr Corr said that part of the Springfied Road had become a "hot spot" in recent times with ambulance and fire and rescue vehicles being targeted.
"It is shocking that this was a guy going about his work, ending up in hospital with severe facial injuries."