Northern Ireland QCs' £55m legal aid bill 'staggering'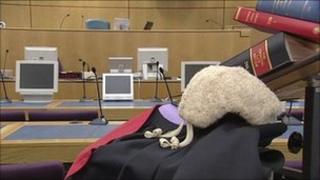 A DUP MLA has said he is staggered by the amount of legal aid money paid to senior barristers in Northern Ireland over the past five years.
Figures released by Justice Minister David Ford show that between 2006-7 and 2009-10, 66 Queen's Counsels were paid total fees of £47,925,554.
In 2010-11, 51 senior barristers were paid £7,752,253.
David McIlveen, who requested the information, said there should be a fair share of cutbacks across society.
"I don't think any right thinking person could look at that and not think that there something that could be done about it," he added.
"We as politicians want to make sure that this place runs as efficiently as possible."
The Bar Council has pointed out that the fees paid to barristers in a year may reflect their work on several cases over several years.
Mr Ford is attempting to cut the legal aid budget from £100m to £75m, a move which has angered many in the legal profession.
The justice minister has argued that the current payment levels are unsustainable and that the new fees will still be higher than those paid in England and Wales.
Pearse McDermott from the Solicitors Criminal Bar Association warned last week that proper legal representation was impossible under the new fees.
He said that Mr Ford was proposing "yellow pack justice".