DRD civil servant Paul Priestly is demoted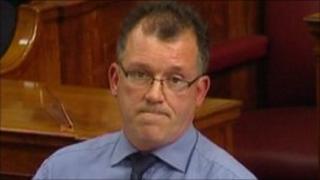 A senior civil servant has been demoted from his job at the Department of Regional Development (DRD) after a disciplinary hearing.
Paul Priestly, who was DRD permanent secretary, was removed last August when the minister, Conor Murphy, said his position was untenable.
Mr Priestly had helped draft a complaint letter to an Assembly committee probing DRD and NI Water.
He has now been demoted to deputy secretary.
He had been involved in appointing Peter Dixon, a director at Phoenix Gas, to an independent review of governance at NI Water.
When four NIW directors were subsequently sacked for the improper awarding of contracts, the Public Accounts Committee (PAC) at Stormont began scrutinising the review team.
Mr Dixon was not happy with his treatment by the committee and Mr Priestly helped him draft a letter of complaint.
In a report earlier this year, the PAC described Mr Priestly's involvement in drafting the letter as "utterly disgraceful".
His suspension last summer was not a punishment but was imposed to allow an investigation.
That was carried out by Sir Jon Shortridge, a former senior civil servant from Wales.
A government spokesperson said Mr Priestly had been downgraded to the post of Deputy Secretary and that Sir Bruce Robinson, the head of the civil service, was considering the staffing implications.
SDLP Deputy Leader Patsy McGlone MLA said the demotion was a totally insufficient sanction for seeking to frustrate accountability mechanisms.