Renewable wind turbine use 'held back by planners'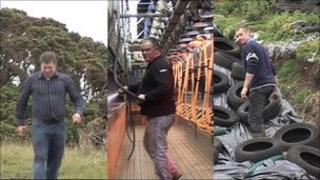 There have been 20 applications for wind turbines in the Moyle area since May last year - and not one of them has been approved by the planners.
Farmers living close to the Giant's Causeway have said they are being refused permission to put up wind turbines on their own land because it may impact on the world heritage site.
Three of them, Hugh Henderson, Wesley Kane and Daniel Kane, said they have rising electricity bills, some averaging £15,000 per annum.
The farmers said they are all outside the four-kilometre exclusion zone that protects the Giant's Causeway and claimed they are being stopped from going green, and reducing their costs, because of where they live.
Hugh Henderson, who has a 70-acre farm off the Straid Road, close to Bushmills, said he cannot even see the Causeway from his property.
"It was to try to recoup, to pay off our electricity bills, which are roughly in the region of £15,000 per year," he said.
"We hoped to put some back into the grid and pay our own bills off.
Six miles away
"We thought this was the best site we could pick because it was the windiest point, but the planners have turned us down because of the Giant's Causeway."
Just over the fields lives Wesley Kane. He has a 130-acre farm and it's six miles away from the Causeway coast.
There is a large mobile telephone mast on a hill that overlooks his house, but he is not allowed a wind turbine.
"All they (the planners) are saying is Bengore Head is the problem and we're six miles away," Mr Kane said.
"I don't see why the government is putting across that they're wanting green energy and then the planners turn you down.
"In a lot of cases there's fog and mist coming off the sea and you don't even see up here at all."
Meanwhile, Daniel Kane, a dairy farmer who lives about four miles away from the World Heritage Site said his electricity bills are soaring and a wind turbine would have helped ease the financial burden.
'Grave impact'
"No one objected to the planning application except the planners themselves," he said.
"They thought it would have a grave impact on the new Causeway Centre.
"My wind turbine's not even visible from the new Causeway Centre so I'm afraid I'm at a loss here. Does Northern Ireland want green electricity?"
Sandra Hunter is an Ulster Unionist Councillor on Moyle District Council. She used to be a dairy farmer but switched to sheep because of rising electricity costs. She said the planners have got it wrong.
"Why is it that they can put up other buildings and they're pleasing to the eye but these windmills, no," she said.
"I really don't think they'll see them and for the environmental end of things, for generating electricity, I think they're definitely for this area"
The farmers may have a friend in the new environment minister, Alex Attwood.
He said he is going to look at the issue and visit the Causeway area. He said there could be a better balance between tourism, planning and the needs of the local community.
"That is an area of great natural beauty and therefore we have to show particular care when it comes to how we develop that area, be it for wind turbines or anything else," Mr Attwood said.
"I think the farmers may have a point that the rules and the policy is being interpreted in such a conservative way that it's getting in the way of good projects for green energy."