Belfast 'mephedrone' drugs haul posted from China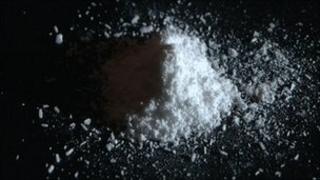 Suspected mephedrone seized in Belfast with a street value of £75,000 could have been imported from China for £3,000, the High Court heard on Monday.
The drugs were found in packages posted to an address in County Down.
Prosecutors alleged that an organised gang was involved in bringing in the consignment recovered from a car stopped and searched on 1 June.
Details emerged as bail was refused to a man accused of being a key member of the suspected plot.
Joseph Corner, 51, of Clifton Drive, Belfast denies charges of possessing Class B drugs with intent to supply, importing drugs, and conspiracy to supply mephedrone.
He was refused bail due to the risk of any further offences being committed.
The court heard how Mr Corner matches the description of a man who made three attempts to collect a package from Castlewellan Post Office on 26 May.
Six days later he was with two other men in a BMW car stopped on the Newtownards Road in Belfast, it was claimed.
'Prima facie case'
A Crown lawyer said two packages with Chinese postal stickers containing suspected mephedrone and addressed to a woman in Castlewellan were seized from the vehicle.
"The police estimate that the drugs recovered had an estimated street value of £75,000, but they could have been bought for £3,000 from China," she said.
The barrister also told the court: "The applicant is believed to be part of an organised gang involved in a conspiracy to import, importation and possession with intent to supply controlled drugs.
"Police believe Mr Corner is a principal member of this gang."
Jonathan Browne, defending, said his client disputed claims that he was the man who tried to collect packages from the post office.
He also argued that no attempt had been made to interfere with witnesses, despite prosecution allegations that Mr Corner was part of an organised gang.
Mr Browne said the accused gave police a full account of travelling to Belfast to meet a friend.
But the judge ruled that a prima facie case had been established against Mr Corner.
Mr Justice Hart said: "A very substantial quantity of suspected mephedrone was found in his car in two packages, apparently having come through the postal system from China."
Denying bail, the judge added: "There is a risk of further offences. The application is refused."