Milk Cup tournament public funding 'not guaranteed'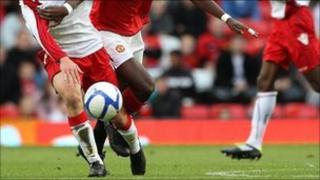 The tourism minister has said that permanent public funding cannot be guaranteed for events such as the Milk Cup and Foyle Cup football tournaments.
Arlene Foster said they did not score highly in the funding criteria as they were primarily sporting events.
It emerged last month that the NI Tourist board had decided to end its financial support for the tournaments.
Mrs Foster told the assembly that she has asked her officials to discuss alternative funding for both events.
Milk Cup organiser Victor Leonard said he feels tourism officials don't appreciate the event's potential.
"We have met with officials on many occasions and I don't think they have an understanding, particularly of ball sports, certainly not football and certainly not international sports," he said.
"Quite frankly the potential it has is enormous but it's not being used."