Demotion of Paul Priestly at DRD is 'insufficient'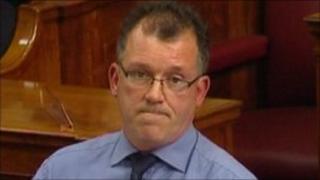 SDLP MLA Patsy McGlone has said the demotion of a senior civil servant after a disciplinary hearing is a "totally insufficent sanction".
Paul Priestly, who was DRD permanent secretary, was suspended last August when the minister, Conor Murphy, said his position was untenable.
Mr Priestly had helped draft a complaint letter to an Assembly committee probing DRD and NI Water.
He has now been demoted to deputy secretary.
He had been involved in appointing Peter Dixon, a director at Phoenix Gas, to an independent review of governance at NI Water.
Deter
When four NIW directors were subsequently sacked for the improper awarding of contracts, the Public Accounts Committee (PAC) at Stormont began scrutinising the review team.
Mr Dixon was not happy with his treatment by the committee and Mr Priestly helped him draft a letter of complaint.
It is thought likely that Mr Priestly's salary will drop by around £15,000 but Mr McGlone said he should have been punished more severely.
"There must be a clear duty on highly paid public servants to co-operate with accountability bodies acting on behalf of the public purse, and those who seek to frustrate accountability should be dealt with harshly in order to deter anyone else," he added.