Limavady Union flag row returns at Boyd Douglas display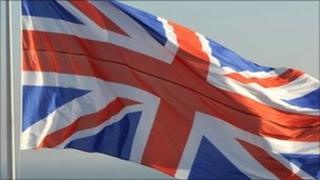 A councillor in Limavady has displayed a Union flag at a council meeting for the second time in less than a week.
Last week, a council meeting had to be abandoned after the TUV's Boyd Douglas displayed the flag in contravention of the council's no flags policy.
A council meeting was delayed for over an hour on Monday while the mayor, Sinn Fein's Sean McGlinchey, took legal advice.
The meeting resumed after Mr Douglas agreed to take down the flag.