Union flag row goes on as TUV man says flag may return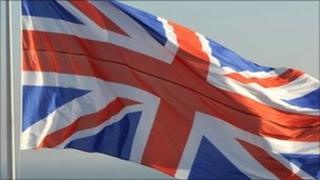 A councillor in Limavady who displayed a Union flag at a council meeting for the second time in less than a week has threatened to display it again.
The TUV's Boyd Douglas displayed the flag in contravention of the council's no flags policy.
Monday's meeting was delayed for over an hour while Sinn Fein mayor Sean McGlinchey took legal advice.
Mr Douglas eventually took down the flag, claiming he would have removed it last week had he been asked "nicely".
The meeting resumed, but he has threatened to display the flag again.
"I feel that's my decision, whenever I feel I want to bring it back I'll bring it back," he said.
Disappointing
"There's nothing within the policy that can stop anyone from bringing in a flag."
However, Sinn Fein Councillor Anne Brolly said the council had a duty to promote "a good and harmonious working environment" and risked being surcharged if it was found to have contravened fair employment rules on the display of flags, emblems and posters.
"We sought legal opinion on that and the legal opinion we got was on the broader issue of fair employment law," Mrs Brolly said.
"Our advice was, because of this, we could contravene fair employment law and in the event of a judicial review, by a member of staff, by the press, by the public in the public gallery, it could lead to the body council, or individual councillors being surcharged."
The Mayor of Limavady, Sinn Fein's Sean McGlinchey, suspended council proceedings on Tuesday 7 June after Mr Douglas first brought the Union flag into the chamber.
Mr McGlinchey said the problem still lacked a resolution.
"We're no further forward on with the issue," he said.
"I think it's very convenient for Councillor Douglas just to drop it but then say he can put it up at any stage - it's very disappointing."
Both Sinn Fein and the SDLP expressed their fears that the threat to produce the flag again is effectively holding the chamber to ransom and say a permanent solution must be found.