Funeral for former Irish minister Brian Lenihan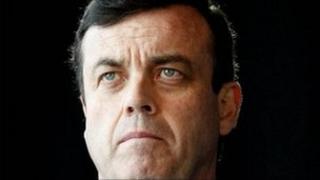 The funeral of the former Irish finance minister Brian Lenihan has taken place in Dublin.
Mr Lenihan died last Friday at the age of 52. He had been suffering from pancreatic cancer.
Irish President Mary McAleese and Taoiseach Enda Kenny led mourners at the funeral in St Mochta's Church, Porterstown.
The funeral was also attended by Deputy First Minister Martin McGuinness and Finance Minister Sammy Wilson.
Mr Lenihan, as Ireland's finance minister, agreed the 100% bank guarantee and signed the bail-out deal with the IMF, the European Union and the European Central Bank.
He was a member of the Fianna Fail opposition party.
He came from a political dynasty. His father Brian, his brother Conor, and his aunt Mary O'Rourke all served in Irish governments.