Residents erect McGurk's bomb victims name tribute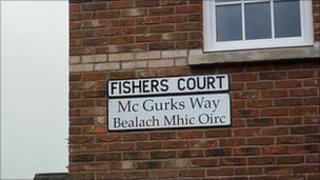 In the 40 years since the McGurk's bar bombing, the area of north Belfast in which it once stood has changed significantly.
Thousands of cars a day now pass over the Westlink flyover, just a few metres above the place where 15 men, women and children were murdered.
The surrounding streets are also very different. In recent years, housing associations have been busy, attempting to keep pace with high waiting lists for the area.
It was in one of these new terraces that people gathered last Tuesday for the unveiling of a street sign.
The local residents' association, backed by those living in the street, had chosen the name McGurk's Way in memory of those died in the UVF attack.
That the sign was erected underneath the street's official name of Fishers Court is a clue to how the issue has been less than straightforward.
Divided
The naming of new streets is one of the few planning-related powers that councils in Northern Ireland retain.
When this particular proposal came before councillors at City Hall, they were divided.
The housing association had put forward Fishers Court, a nod to nearby North Queen Street which was once called Fishers Row.
Nationalist councillors lacked the numbers to force through their proposal to reject that name in favour of the residents' plan.
Unionist representatives voted in favour of the housing association's suggestion.
They warned of a piecemeal, politicised approach to commemorating the past.
Ciaran MacAirt, who lost his grandmother in the explosion, is nevertheless hopeful that the street can be officially renamed.
"We were not behind the idea to rename this street but it was a wonderful gesture from the residents' association and the people who lived there and one that I personally received very warmly," he said.
"It means that the memory of what happened is woven into the topography of the city.
"In a hundred years time, people will ask why this street has this particular name and be aware of what happened here.
"I understand that some people think it is best to walk away from the memories of the Troubles and I think that is a viable opinion but it is not something that we are capable of doing."
Selective commemoration
DUP councillor Brian Kingston, one of those who opposed the renaming at the City Hall meeting, says that the approach being taken in this part of north Belfast is perilous.
"I think that it runs the risk of selective commemoration, a kind of tit for tat approach to the past which will actually increase division in Belfast.
"I fear that there is a political element to it and once it is introduced then you will have situation where some atrocities are remembered in this way and others aren't."