'No verdict' on manslaughter of Conor McCusker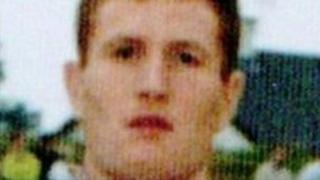 A jury in the case of a man accused of manslaughter has failed to reach a verdict.
Conor McCusker, 31, was killed in a fight outside a nightclub in Cookstown in 2009.
Christopher Murphy, 23, from Tullagh Drive in the town, had pleaded not guilty to attacking Mr McCusker.
The jury unanimously found Murphy guilty of the assault in relation to the fight. He was released on continuing bail.
Mr McCusker was on a night out with his brother Niall, the vice-captain of the Derry GAA team, when he suffered serious head injuries in a fight.
He was taken to Belfast's Royal Victoria Hospital where he died.
The judge gave his summing up of the case on Monday but on Tuesday the jury indicated that they were having difficulties in their deliberation on the manslaughter charge.
The foreperson of the jury sent a note to trial judge Mr Justice McLaughlin indicating there was little or no chance of them reaching a unanimous verdict on the manslaughter charge.
Mr Justice McLaughlin explained to them that the time would come when he could accept a majority verdict, but that time had not come, and they should continue trying to reach a majority verdict.
However, following a further two hours deliberation the jury remained divided and said they would never reach a unanimous decision.
He instructed them instead to concentrate on trying to agree on a verdict on the alternative second count, that Murphy unlawfully and maliciously caused grievous bodily harm to Mr McCusker.
Within 15 minutes the jury had returned to deliver their unanimous guilty verdict on this second charge, but this was in the absence of many of Mr McCusker's family and friends, who had left the court just moments before.
The prosecution will indicate on Friday of next week if Murphy should face a re-trial before a new jury for the unlawful killing of Mr McCusker, who died in hospital two days after the initial incident in the early hours of April 19, 2009.
Murphy, who has been released on continuing bail, admitted "doing an unlawful act" in pushing the GAA man, but always denied the manslaughter of Mr McCusker outside the Mint Nightclub in Cookstown.