Newspaper review: NI and Republic of Ireland stories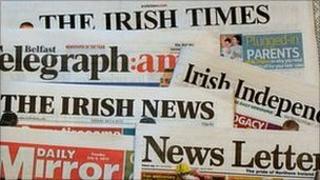 Journalist Mike Philpott takes a look at what is making the headlines in Wednesday's newspapers.
The Irish News leads with the tragic story of Madeline Donaghy, a mother of three from west Belfast who died after suffering a brain aneurysm while on holiday with her family in Spain. The paper says arrangements are being made to bring her body home.
The Belfast Telegraph leads with an inquest at which it was alleged that a leading heart surgeon changed a patient's notes after an investigation was launched into her death. Madeline Fitzpatrick died after a heart valve operation five years ago.
For the News Letter, the big story is the Smithwick Tribunal, which is investigating the murder of RUC officers Harry Breen and Bob Buchanan.
The paper quotes a Garda superintendent, who rejected allegations of collusion between members of the Garda and the IRA. The Daily Mirror says the tribunal also heard that a meeting in Dundalk on the day the men died had been arranged using unsecured phone lines.
The funeral of the former finance minister, Brian Lenihan, dominates both the Irish Times and the Irish Independent. The Times shows his flag-draped coffin being carried from the church after requiem mass.
The Independent shows his son Tom and daughter Claire comforting each other. It also has an inside page picture of our own finance minister, Sammy Wilson, being greeted by one of the priests who officiated at the service.
The paper's political analyst, Sam Smyth, describes Mr Lenihan as "a true statesman devoted to public service".
There's very little in the way of welcome for the government's revised proposals for NHS reform. The Daily Mail accuses it of a climbdown and says it has produced a "sorry compromise". The Times says ministers have "ducked the hard choices" and may have turned the clock back by as much as 20 years.
The Independent leads with an investigation which suggests that one in seven doctors who will be responsible for allocating £60bn of health service money every year will have "a significant conflict of interest".
The paper claims they could benefit financially from the decisions they take, and says it is a licence for some GPs in England "to print money". Only the Express offers a crumb of comfort for David Cameron. It says he was sensible to water down his plans, but it believes radical reform cannot wait forever.
Finally, there is uproar in the Daily Telegraph's letter column over the media obsession with celebrities wearing the same dress twice.
One woman writes: "Samantha Cameron was shown wearing the same frock at the weekend as she wore at a party last week.
"This morning, I am wearing a red skirt I got when my son was born. He's 40".
And a man writes to announce: "I will, today, be wearing trousers, a shirt, shoes and socks that I have worn in public before. Frequently".