Barrister Donal Farrell withdraws from Newry drugs case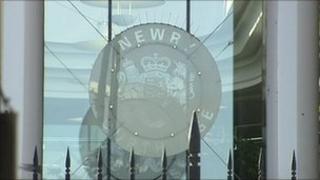 A barrister who allegedly appeared on behalf of a suspected drug dealer without reading the case papers has been allowed to withdraw from the case.
Last week, a judge at Newry Crown Court adjourned the case after hearing that barrister Donal Farrell had not been given the papers.
He also heard that instructing solicitor Gareth McGauley of DG Bell Solicitors did not have them either.
DG Bell are one of only a few firms working for new legal aid rates.
Many solicitors have withdrawn from legal aid cases in protest at Justice Minister David Ford's changes to the fees paid.
On Wednesday, Gary Bell of DG Bell Solicitors successfully applied for Mr Farrell's withdrawal in the case of David Ian Peter McKenna.
He also successfully sought an adjournment of the case of the 22-year-old of Newry Street in Markethill.
He faces a total of eight charges including possession of a Class B drug, being concerned with its supply, and assaulting and resisting police, all on 27 October 2010.
Mr Farrell said he was unable to comment as he was still under a duty of confidentiality to Mr McKenna.