Colin Glen community 'appalled' by McKinstry graffiti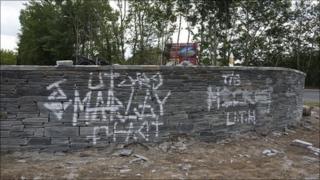 Community representatives have condemned vandals who daubed graffiti on part of a £3.5m road scheme on the outskirts of Belfast.
Work is well underway on the Gateway to Colin project which includes the redevelopment of two roundabouts, new footpath surfacing and boundary walls.
Granite has been brought in for a new structure at the McKinstry roundabout on the Stewartstown Road.
Work there is not finished but slogans have been sprayed on the bricks laid.
Annie Armstrong of the Colin Neighbourhood Partnership said her organisation was trying to track down those responsible.
"The revamp of the McKinstry roundabout is part of a neighbourhood improvement project that seeks to improve the area for all who pass through and all residents living there," she said.
"We are disgusted that this vision has been put in jeopardy.
"Resources will now have to be used to restore the roundabout to its original state and this has held the project back.
"We are currently following up some leads as to who may have been involved in this unacceptable act of vandalism.
"The community has worked hard to stop incidents like this and these types of acts have no place in our community," she added.