David Dunseith got people on the street talking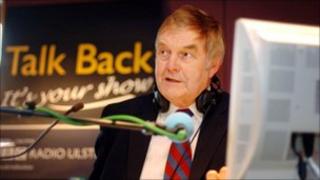 A voice on the radio can seem like a close friend.
You feel you know the man, even though you have never met him. Thousands tuned in on weekdays to listen to David Dunseith.
The programme's mood was changeable, like the Irish weather. There were storms, occasional icy patches and blasts of true sunshine.
Over 20 years, the man and the programme fused - Dunseith was Talkback - a voice of authority who kept a wry eye on machinations in Northern Ireland.
His colleague Gerry Anderson who delighted in playful banter, once said that David Dunseith went to work every day "in the belly of the beast".
"Here come the crazies," he would joke as he handed the airspace over to David. But Dunseith just laughed.
He revelled in his programme. He did not let his interviewees, nor the public who stormed the phonelines, off the hook.
Many of the callers were regulars. Gerard from Clonard, Bertie from Lisburn or East Belfast Protestant Lady all had their say.
Some callers were furious; others infuriating. But like the circus ringmaster, he cracked the whip, reined in the lions and kept a close eye on the clowns.
David Dunseith once said Talkback was "the people's parliament".
As presenter at the helm from 1989 to 2009, he offered the man and woman on the street a voice in the dark days of the Troubles when many felt their voices counted for nothing.
Helen McKendry broke a silence of 22 years to speak to him.
She went on Talkback to describe the day her mother, Jean McConville, one of the so-called Disappeared, was taken away to be murdered by the IRA. Later Lord Fitt was to describe that interview as one of the most poignant, he had ever heard.
It was David Dunseith who conducted a measured, thoughtful interview with IRA Brighton bomber, Patrick Magee.
Back in the 1980s, it was on Talkback that John Hume, the then leader of the SDLP challenged Gerry Adams, the Sinn Fein leader over violence. Hume said he wanted to talk to the IRA. Perhaps Talkback was a small footnote in the history that followed.
The beauty of Dunseith's touch could be seen in the way he moved seamlessly from dark, challenging or worthy topics to lighter ones.
"Sometimes when politicians are debating the weighty matters of state, we find that the listeners want to talk about other matters entirely," he once said, bemused by the sheer quixotic nature of life.
"Just mention litter, chewing gum or telephone directories and the phones light up."
This is what makes Talkback a success, he said. "Ultimately, it's the people who decide what's in the programme and long may they continue to do so."
There were plenty of laughs - Talkback was where it all began for The Hole in the Wall gang.
There were ground breaking outside broadcasts like the one in the Whiterock in west Belfast held to mark Operation Banner - the withdrawal of the Army from Northern Ireland.
There, ex-soldiers and ex-IRA men had their say.
The mark of the man was his way with people - they wanted to talk with him, they wanted to engage.
It was often a love/hate relationship.
He interviewed politicians, priests, prime ministers, paramilitaries - but most of all, he championed the point of view of the man and woman on the street.
The debate was often heated - his gift was that he never was. He cajoled, he chastised, he was a straight talker and he was not afraid to put the tough questions.
"I take a lot of personal abuse - but I take a professional approach and I accept that that is inevitable," he said.
If there were brickbats, there were also bouquets.
In 1993 David Dunseith won a coveted Gold Sony Award as local broadcaster of the year and Talkback won further Sonys in 1997 and 2006.
His colleagues benefited from his expertise and his down-to-earth approach.
BBC NI Head of News Kathleen Carragher said: "David Dunseith was passionate about Talkback and its audience. His grasp of Northern Ireland society was unparalleled. A whole generation of producers worked with David and learned from him."
The London School of Economics said of his work during some of the most difficult days of the Troubles: "Dunseith operates on the basis that all talk, even what is manifestly prejudiced, is better than none, especially if it allows opinion to be tested within a public sphere in which people cannot listen only to the ranting of their own side."
David Dunseith grew up in Londonderry and was an RUC police officer before he turned to journalism in the 1970s.
He worked for UTV before moving to the BBC in the late 1980s.
He stepped down from Talkback in 2009, but returned to host BBC Radio Ulster's Seven Days.
In 2010, his beloved wife Roisin Walsh-Dunseith, a former UTV journalist, died. She had suffered from Motor Neurone Disease.
On his last ever Talkback programme in 2009, he stepped down in a suitably low key way that summed up his humility, his warmth and his style.
"Difficult now... What do I say?
"There was a song - I think it was a Woody Guthrie song - 'So long it's been good to know you. I gotta be drifting along.
"That's all from me now..." And with that, the studio light faded, the microphone went silent and he was gone.