Cambridge House Grammar School fails inspection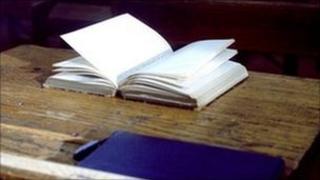 Cambridge House in Ballymena has become the first grammar school to fail an inspection and is now in "formal intervention".
Formal intervention means the school must produce an action plan and get extra support to help it improve.
The school's sixth form has been found to be inadequate and two years ago its performance at GCSE and A-Level was well below average.
If it does not improve, it could be merged or closed down.
A statement from the board of governors welcomed the assessment.
"The board has accepted the findings and the school, with the support of the North Eastern Education and Library Board, is committed to improving the standard of education available for our pupils and to raising examination outcomes," it said.
"The Governors' focus will therefore remain firmly on learning, teaching, raising standards in the school and providing the range of opportunities we offer to our young people."
Cambridge House, in its current incarnation was formed as an amalgamation of boys' and girls' grammars in 2001, but its history goes back a hundred years.
A total of 27 schools have been brought into the formal intervention procedure. Eight have now graduated out of it and one has closed.