Belfast to Dublin railway line reopens after car strike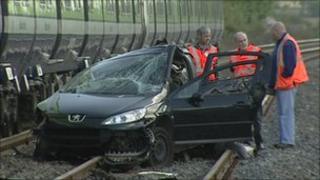 The railway line between Newry and Dundalk has been reopened after a north bound train struck an abandoned car.
It happened on a level crossing near the village of Meigh, County Armagh, just before 0630 BST on Monday.
No passengers were onboard the Irish Rail commuter train. The driver and guard were not injured.
The car was believed to have been stolen and was driven on to the tracks at Meigh.
The train was travelling from Dundalk to Newry when it hit the vehicle.
There was heavy fog on the line and the driver did not see the car until the last minute.
Cross border rail services were disrupted while the wreckage was removed from the tracks.