McAreavey murder: Call for magistrate to stand down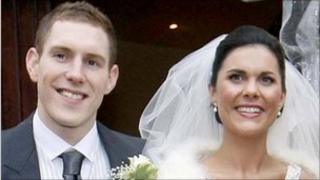 A defence lawyer for one of the men accused of killing Michaela McAreavey in Mauritius in January has asked for the magistrate in the case to stand down.
The daughter of Tyrone Gaelic football manager Mickey Harte was found strangled in the bathroom of her hotel room while on honeymoon.
The magistrate is expected to give a decision on Tuesday.
Two men appeared at a pre-trial hearing on Monday.
It will decide whether they should be tried for her murder.
If that goes ahead, the Director of Public Prosecution will decide if Michaela's husband John needs to attend the court to give evidence.
Mauritian journalist, Livay Frivet said there were several possibilities the magistrate could consider in relation to the request from the defence lawyer for the magistrate to stand down.
"She could reject and sets aside the motion of the defence counsel, or if that is granted, there will be another magistrate, or she can also refer the matter to the Supreme Court for a judge to decide on the matter," he said.
The couple had been married just 12 days before Michaela McAreavey was killed.