Rory's US Open win unites NI's politicians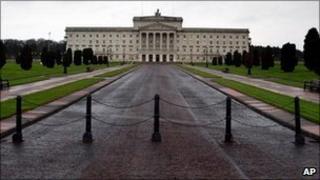 Rory McIlroy hasn't just won the US Open - he's united Northern Ireland's warring politicians.
All parties at the Assembly agreed he's entitled to a reception at Parliament Buildings at Stormont so that his achievement can be officially recognised.
And he was re-christened the Celtic Tiger - in a nod to his only serious competitor as the world's top golfer.
More than one MLA referred to the golfer's humble background in Holywood with the DUP's Peter Weir saying he wasn't born with a silver spoon nor a "golden putter" in his mouth.
Sinn Fein's Conor Murphy said the victory had lifted people's spirits, especially in tough economic times.
Independent member David McClarty said there was now no reason why the British Open should not be played again in Northern Ireland.
It was last held here in 1951.
The victory even had jokes flying like golf balls across the chamber.
When the Green party's Stephen Agnew said it was a great achievement, Finance Minister Sammy Wilson shouted "on the green's".
Mr Agnew rued the fact he had been "got" by the famously un-green former environment minister.