NI Executive misses deadline over air travel tax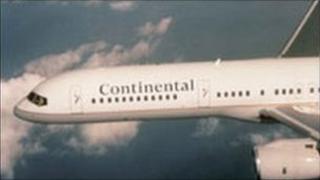 The BBC understands that the Stormont Executive failed to submit a response to a government consultation on an air travel tax.
A Treasury consultation on Air Passenger Duty (APD) closed on Friday. The tax threatens the future of NI's only trans-Atlantic route.
APD adds £60 on every flight from Belfast to New York.
However, Continental, who operate the route, also fly from Dublin where the tax is just three euro.
In his submission to the Treasury consultation, the managing director of Belfast International Airport, John Doran, said Continental was currently losing money because of the tax and warned of the "very real threat" that it would withdraw.
The route is estimated to be worth around £20m a year to the Northern Ireland economy.
One potential solution put forward by the Treasury is that the tax be devolved to the Northern Ireland Executive, but the Stormont failed to submit any agreed response.
It is understood a paper was prepared, but was never considered.
An Executive spokesman said he could not comment on private Executive business.
A response was submitted to Treasury by the Finance Minister, Sammy Wilson, but this carried no collective weight.
This response was approved by the first and deputy first ministers, who briefed the chancellor during his visit to NI on Friday.
Meanwhile, MPs from the Northern Ireland Affairs Committee will be at Stormont on Tuesday to hear evidence in their own inquiry into Air Passenger Duty.