Woman charged over Londonderry glass attack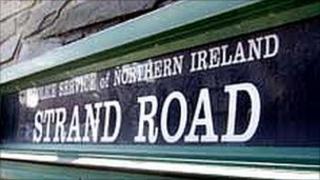 A 21-year-old woman has been charged in connection with an attack on another woman in Londonderry.
The incident happened in the toilets of nightclub on the Strand Road last weekend.
Aine King, 22, was struck with a glass and required hospital treatment for a facial wound.
Her alleged attacker is expected to appear at Londonderry Magistrates' Court in July.
Ms King said she had been left "traumatised" by the assault, which happened as she celebrated her birthday along with her twin sister.
"I walked towards the closest thing because I was coughing out the blood," she added.
"I remember someone handing me a tissue and telling me not to look in the mirror, but I couldn't help it because I wanted to see if I still had my teeth."
Her father Tom King said he "could not believe" his daughter's injuries.
"I don't even remember what bridge I went over to get to Altnaglevin (Hospital). It was total shock to hear and to see what the aftermath was."
He said he wanted to send a message to the parents of young people about the dangers of the city.
"I worry about my daughters all the time especially over the last 10 or 12 years. I am a taxi driver and I see a lot that happens in the town outside nightclubs. Sometimes it is mayhem.
"You can't get driving up the Strand Road, people are standing in the middle of the road, there are bottles and glasses flying," he said.
Ms King said she feels as though she "never wants to go out again".
"It was my birthday and it was a good atmosphere and it just ended in a terrible way," she added.