Derry church spire set alight during repair work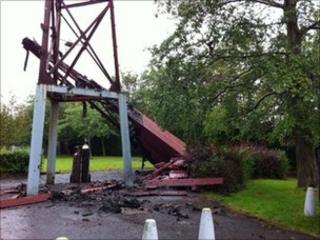 Fire fighters have put out a blaze at St Brigid's Church at Carnhill in Londonderry.
The spire of the church caught fire at around 0900 BST while workmen were repairing damage caused during last month's storms.
It was snapped in two by winds of up to 80mph.
Mass at the church may be disrupted over the coming days in order to allow the workmen to complete the repairs.
They were cutting through the metal when a spark ignited fibreglass, which was inside the tower according to the fire service.
A parishioner, who was at the church at the time, said she was taken aback by the size of the flames.
"They were quite big, it was like a whole chimney going on fire.
"We just went on with what we were doing in the church and left it to the workmen," she added.
Parishioners are being advised to contact St Brigid's to find out if mass will go ahead as normal on Wednesday.