'Sectarian' attack on Derry family's home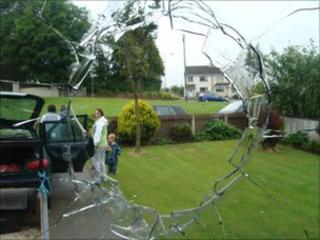 A Londonderry man has said he is worried for his family's safety after his home and car were attacked with a stone.
The front window of Bobby Wade's house in Tullyally was smashed by vandals in the early hours of Tuesday morning. The windscreen of his car was also damaged.
Mr Wade said he does not know who was behind the attack, but he believed it was "sectarian".
"I have no idea why I was targeted," he added.
"It seems as though they hit the car first with the stone and it bounced off and they lifted the stone again and put it through the living room window.
"We get on the best with our neighbours and I have no fights or qualms with anybody. My son doesn't get involved with anything. He is only 13 anyway."
DUP councillor Drew Thompson condemned the attack.
"Without a doubt this is uncalled for and needs to be nipped in the bud right away," he said.
"We need to try and find out who is behind this and get them apprehend."
Police said they were appealing for information following the incident.