Ilex defends Peace Bridge contracts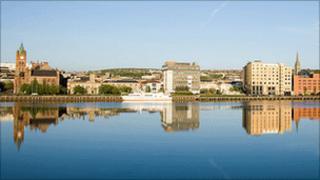 The Londonderry regeneration company Ilex has defended the way it awarded business contracts for the opening of the Peace Bridge on Saturday.
There has been criticism that some services, including catering, will not be done locally.
Ilex said they cannot discriminate against companies outside the North West.
It added that eight out of 15 contracts for the opening had gone to local firms.
Ilex programme manager Sean Curry insisted Derry companies were given a "fair chance".
"The tenders were sent out to a range of companies, some whom came from the North West and they were invited to put in a competitive bid," he added.
"According to our guidelines they (the tenders) did not have to be advertised. Anything up to £30,000, we can go out to five companies and get written quotations or tenders.
"None of the packages that were awarded were over £30,000."
Mr Curry said "a very similar" tender process would be used to hire firms for the UK City of Culture events in 2013.