Michaela McAreavey husband John 'to give evidence'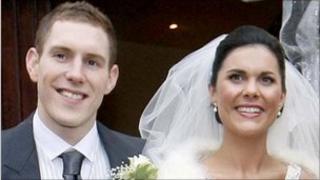 The husband of murdered bride Michaela McAreavey will be called back to Mauritius to give evidence at the trial of two men accused of killing her.
John McAreavey found his wife, the daughter of Tyrone boss Mickey Harte, dead in their hotel suite during their honeymoon in January.
Lawyers for the two men charged, Avinash Treebhoowoon and Sandip Moonea, have requested his presence.
Prosecutors agreed, provided the defence pays Mr McAreavey's expenses.
'Fair justice'
The accountant from County Down had previously been told he would not have to give evidence.
Defence barrister Ravi Rutnah told Judge Sheina Bonomally that he had many questions for Mr McAreavey and said his clients, who are both accused of the murder, deserved to see fair justice executed on their behalf.
That, he said, meant a number of difficult and detailed questions being answered by Mr McAreavey.
Mr Rutnah also told the court he had been left feeling ashamed of his country after the alleged torture of his clients during police questioning and his own personal treatment at the hands of the Mauritian CID team.
Dick Ng Sui Wah who is representing Mr McAreavey in his absence, told the court his client had already established that he was willing and able to travel to Mauritius in the interests of seeing justice done.
He said: "Mr McAreavey has said he is absolutely at the disposal of the court in the pursuit of justice."
'Ashamed'
As a result of his claims of mistreatment, Mr Rutnah was advised to step down from the case by the prosecution in the event that he may be called as a witness against Mauritian police officers and be "professionally embarrassed".
Mr Rutnah refused to remove himself from the case and said: "I was ashamed of my country that police officers from MCID were acting like gangsters and criminals and I wanted to put a stop to such practice as a human rights lawyer of considerable experience.
"I was shocked and I found abhorent the practice being used by police to extract confessions from my clients, which are not practised in the civilised nations of the world."
Judge Bonomally ruled that her court could not rule on Mr Rutnah's role in his clients' case and she adjourned the pre-trial hearing until Wednesday.