AQA exam board sorry for GCSE Maths paper mistake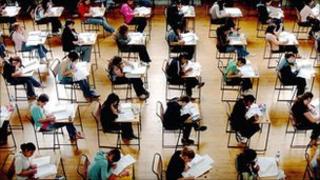 An exam board has apologised for a mistake in a GCSE Maths paper on Tuesday.
AQA, which is based in England, said pupils at 52 schools in Northern Ireland were sitting the exam module.
It was unable to say how many pupils were involved.
AQA said it was sorry if the mistake had caused some students distress. It put the problem down to printing and said no student would be disadvantaged by the error.
A total of 31,659 students took the paper across the UK.
Some of the papers given to pupils in the foundation exam included questions which had been on a previous paper in March, however some copies of the paper did not contain the error.
It is understood the problem paper begins and ends with the correct June questions but has questions from March in the middle.
In a statement, AQA said it had told schools that students should attempt the paper "as it is" and it would consider the most appropriate action to protect students' interests, when it had a full understanding of the extent of the problem.