British Lions rugby star Stephen Ferris in court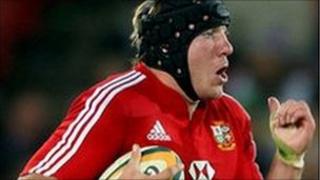 British and Irish Lions rugby international, Stephen Ferris, has denied assaulting two men in Belfast city centre.
His older brother, David Ferris, admitted assaulting one of the alleged victims on 27 September 2009.
Both men have an address at Chestnut Hall Avenue in Moira, County Down.
A trial date has been set for the last week in November. Both men were released on continuing bail.
Stephen Ferris, 25, pleaded not guilty to one charge of causing actual bodily harm to Colm Conlon and one of common assault on James McGinley.
His older David Ferris, 28, pleaded guilty to causing Mr Conlon actual bodily harm on the same date.
Defence QC Liam McCollum, appearing for both Ferris brothers, said there was no issue whether David Ferris was dealt with before the trial of his brother.
He added however that the flanker will be in New Zealand "over September and October and he has serious commitments in November".
Setting a trial date for the last week in November, Judge Geoffrey Millar QC released both men on continuing bail and ordered pre-sentence probation reports for David Ferris.
Stephen Ferris has played 24 times for Ireland and received his first cap in November 2006.
The Ulster player was part of the British and Irish Lions tour to South Africa in 2009 but had to withdraw prematurely after sufferring injury.