Ross Street flats - a place to live but never a home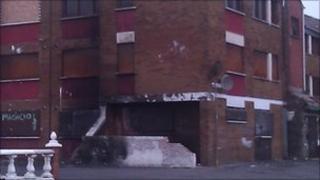 Some of Belfast's most troublesome flats are being demolished later in a move which nearby residents say will greatly improve living conditions in their area.
The flats on Ross Street have been up since 1976 and during that time they have become synonymous with anti-social behaviour.
Used as drinking dens and for late night parties, trouble often brought misery to those living nearby, especially during weekend nights.
"They were somewhere to live, but never a home," is how Mary Lavery, who lives nearby, describes them.
"For the first ten years the flats were fine but as residents died or moved on the population became more transient. From then on the area spiralled out of control to a situation where even pensioners coming from Mass were often verbally abused."
Beaten to death
Just three years ago local man Francis McGreevy was murdered there after he confronted youths.
He was beaten to death simply for speaking out.
Others have tried in vain to tackle the anti-social behaviour but, despite measures such as the introduction of speed ramps, fresh black tyre marks left by drivers of stolen cars greet visitors into the area - an area home to one of Belfast's most famous landmarks, St Peter's Cathedral.
Pensioner Kate Forbes, who lives in another block of flats a short distance away, said: "There's not a wheelie bin in sight. Anything that can be burned is burned.
"There are times when I can't go out. I look out my window and see 20 youths.
"You don't want to walk through them, half of them don't even live here."
Demolished
But improvements are on the way.
After years of campaigning to have the buildings removed, it was announced last year that they would be pulled down. That work begins on Wednesday.
Residents are clearly happy with what's happening, but local man Robert McClenaghan, who is on the local residents committee, says it is only one step in the right direction.
"This demolition is only one piece of a bigger community jigsaw to enhance the quality of life for everyone in the lower falls from the cradle to the grave," he said.
"For example, there are other apartments, literally across the road, which were built around the same time and are falling into a similar state," he says.
"We want to work with the Department of Social Development and housing associations to eventually have these too replaced with sustainable homes."
Work to redevelop the site is obviously going to take some time but when it is finished, there could be 11 new three-bedroom homes, and alleyways that once provided easy access to the flats will be closed off.
Residents hope that this work, and any future development in the area, will mirror the improvement in living standards that was experienced when the nearby Divis flats complex was torn down in the 1990s.