Overcrowded south Belfast homes spark community tension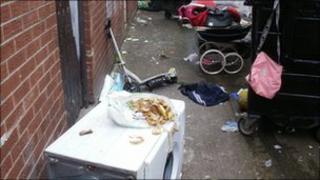 Overcrowding in some homes in south Belfast is a disaster waiting to happen, the Landlords Association of Northern Ireland (LANI) has warned.
It said Roma tenants are causing a fire risk by renting homes meant for one family but sharing them with relatives.
Under current legislation, a privately rented house does not have to be registered as a House of Multiple Occupancy (HMO), if fewer than two families live there.
LANI said the law needs to be changed.
LANI spokesperson Declan Boyle showed me one of his properties which he rents out to students in the Holyland.
"We have to fit smoke alarms, emergency lighting, fire exits, X number of bathrooms, if we rent a house out to students, but 25 people can be living next door without the need even for a £5 smoke alarm," he said.
'Massive overcrowding'
Mr Boyle agreed that landlords have a responsibility to make sure their properties are not overcrowded, but he said there was an onus on the housing minister and other agencies to deal with what he described as a growing problem.
Local residents in the Lower Ormeau and Holyland areas say there is massive overcrowding, with some properties housing as many as 38 people.
They say Romanian tenants are causing litter problems by going through the communal bins in the entries.
They say they are leaving rubbish strewn around which is attracting flies and rats.
They add that the entries are being used as toilets.
Belfast City Council says positive work is going on behind the scenes to educate and engage with the Romanian community.
The Northern Ireland Housing Executive said whilst it is responsible for monitoring HMOs, in the case of large Roma families living in one house, there is a gap in the legislation.
No-one from, or representing the Romanian community in Northern Ireland, would agree to speak to me.
However, Victoria Vasey from the European Roma Rights Centre in Budapest said Roma people living here do not get any benefits and have limited access to work.
She said this means many may feel it necessary to live in what could be considered overcrowded conditions.