East Belfast residents caught in the crossfire of riots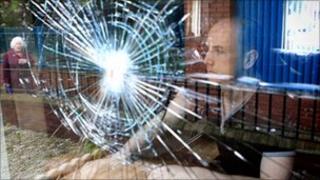 As violence broke out for a second night in east Belfast, ordinary people found themselves caught in the middle.
Evelyn Robinson, 83, lives in a house next to the so-called peace wall and has permanent metal grilles over her windows. Firecrackers and debris from the riot can be seen in her garden and on her roof.
Evelyn said she sits in her house at night and prays.
"I don't go out much, I sit inside and say my rosary," she said.
"I say a prayer to the Sacred Heart, just to keep us safe, that's all."
Eleanor, from Belfast said it was important to realise that "this is a very small minority of the people here who have started this trouble".
Step back
"One hundred yards down the road people are going about their normal business, carrying on our lives, unaware of what on earth these people are fighting about," she said.
"In fact, that is the mystery, what is it all about? Could anyone tell us? We who live here are as baffled as the rest of the world. Accounts I heard on our local news this morning said that children as young as 10 and 11 were involved in the riots. Recreational violence?"
Jonny Fielding was returning from a night out and had to travel through the Lower Newtownards Road/ Short Strand area on his way home.
"The entire area is a mess with debris and local residents were outside their homes beginning the clear up at four o'clock," he said.
"This is a step back for Northern Ireland and I know that no right-minded individual wants to see the scenes that have taken place broadcast around the world as the image of Northern Ireland, especially after the triumph of local sportsman Rory McIlroy."
Andrew Coiley, lives in Castlereagh Street in east Belfast. This area also lies on an interface between nationalist and loyalist neighbourhoods.
"Tensions have been flaring on and off since last night. I'm worried for my father's car parked outside my home, hooded youths collect and pile bricks and metal next to it," he said.
"I feel terrible that after everything Rory has done for our image abroad, the world will unfortunately wake up looking at this. I hope for peace."