Michaela McAreavey's husband to face murder questions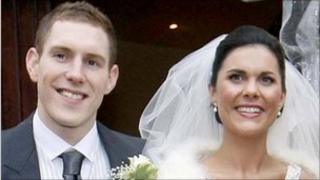 The husband of Michaela McAreavey will face questioning about the murder of his wife while they were on honeymoon in Mauritius.
Two members of hotel staff Avinash Treebhoowoon and Sandip Moonea are charged with her murder.
Their defence team have prepared a list of questions they intend to ask John McAreavey.
On Wednesday, the questions were shown to the court where they will be tried.
He has agreed to travel to the Indian Ocean island at the request of lawyers acting for the men accused of killing his bride.
Mr McAreavey, an accountant from County Down, found his wife, the daughter of Tyrone boss Mickey Harte, dead in their hotel suite during their honeymoon in January.
He could give evidence to the court as early as next week.