Ranger Aaron McCormick 'had no chance' inquest hears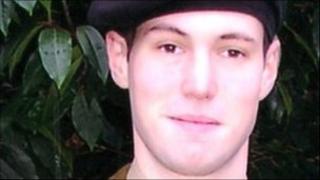 A soldier killed investigating a suspicious device in Afghanistan had such severe injuries he had no chance of survival, an inquest has heard.
Ranger Aaron McCormick, 22, of the 1st Battalion, The Royal Irish Regiment, from Macosquin, County Londonderry, was killed in the explosion last year.
The inquest into his death was held in Trowbridge, Wiltshire.
The soldier had been on the ground investigating the bomb when the device went off.
An explosives expert said the device was "a low metal content pressure plate IED (Improvised Explosive Device)" which was "operated sadly by the victim making contact with the pressure plate".
A post-mortem examination found the cause of the Ranger's death to be blast injuries caused by an explosion.
Sergeant Peter Keogh, who led the patrol, told the inquest that a line of stones had been left near their checkpoint in the Nad'e Ali area of Helmand province. They believed it to be the work of local residents identifying the location of an IED .
The patrol went to investigate, and Ranger McCormick, who was carrying the mine detector, lay on the floor to examine the area for about five minutes.
Sgt Keogh, was close behind when the device went off.
"I was just behind him. I was blown off my feet," he said.
He added that there was "a large bang" and then he lost sight of Ranger McCormick.
Remembrance Sunday
"My initial concern was that he was gone. I started shouting his name. The guys behind me said he was over the wall."
When asked if there was any sign of life when the patrol found Ranger McCormick, he replied "no, there was not".
His body was taken to Camp Bastion, where his death was confirmed.
Pathologist Russell Delaney said: "His injuries were non-survivable regardless of any medical or surgical intervention.
"There was nothing that his colleagues could have done to save him."
Ranger McCormick's death on November 14 came as Prince William flew into Camp Bastion with Defence Secretary Dr Liam Fox for a Remembrance Sunday service.
David Ridley, the Coroner for Wiltshire and Swindon, recorded a verdict of unlawful killing while on active service in Afghanistan.