Rory McIlroy 'going for a song'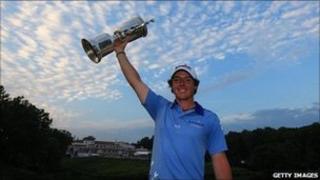 The Corrigan Brothers rose to fame in 2008 after writing a song about Barack Obama.
"There's no one as Irish as Barack O'Bama" led to them being invited to perform at the US President's Inauguration.
The brothers from north Tipperary have now turned their attention to penning a song in homage to Rory McIlroy.
McIlroy from Holywood County Down, became the 2011 US Open champion on Sunday in Maryland, breaking several records along the way.
It seems that no rise to fame now is complete without the Corrigan brothers writing a song to mark it.
With lyrics such as:"This Irish golf legend he's a wonder boy US Open champion Rory McIlroy" the group have already had some interest from America in the song.
However, there is one slight hitch... it hasn't been recorded yet.
The Corrigan Brothers will be hoping to get into the studio soon to record Rory's "US Open champion" song to take full advantage of his recent success.