Altnagelvin Hospital norovirus outbreak closes ward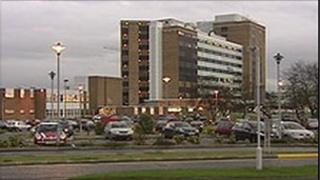 A hospital ward in Londonderry has been closed due to a virus outbreak.
Altnagelvin Hospital has temporarily closed Ward 20 to new admissions.
Norovirus, which causes vomiting and diarrhoea, has been confirmed in a number of patients.
The Western Health and Social Care Trust has asked the public not to visit the hospital if they have been feeling unwell and, if visiting, to cooperate with the clinical staff to assist in reducing infection.
The main symptoms of the norovirus infection are sudden nausea, stomach ache followed by severe "projectile" vomiting and / or diarrhoea.
Symptoms usually begin between 12 and 48 hours after a person becomes infected.
In a statement the trust said that norovirus was common in the community at this time of year and it was a short-term illness, with most people getting better within a few days.
Dr Anne Kilgallen, Western Trust Medical Director, said the trust's infection prevention and control team was dealing with the outbreak.
"The public has an important role to play by not visiting the hospital if they are feeling unwell, particularly if they have diarrhoea and/or vomiting," she said.
"And if someone has been unwell we would advise them to wait until at least 48 hours after they have been ill before visiting the hospital.
"Those who are visiting are asked to thoroughly wash their hands before and after visiting."
The trust said the situation would be kept under review.