Southern and Western education boards link saves £1m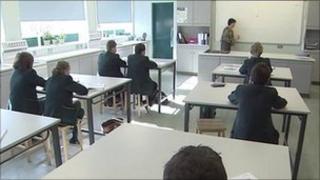 Two education boards have saved more than £1m by merging aspects of their work, the BBC has learned.
Politicians at Stormont have failed to agree on the creation of a single education board for the whole of Northern Ireland.
The Western and Southern boards have pressed on with collaboration, enabling them to cut back on senior managers.
Five departments, including maintenance and human resources, have one manager instead of two.
They have both also cut 100 jobs through voluntary redundancy and saved £3.5m this year.
The full-scale amalgamation of the education authorities, creating the Education and Skills Authority, was due to have happened in April 2008.
It has still not happened due to a lack of political agreement, but there are hints that there may be progress soon.