William McKee replaced by John Compton on health review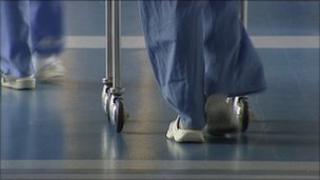 The chief of the Health and Social Care Board has been asked to carry out a review of the health service.
Health minister Edwin Poots said John Compton's team would focus primarily on the delivery of acute services.
Last month, the BBC reported that Mr Poots was considering reversing a decision by his predecessor to appoint William McKee to the post.
He left his job as chief executive of the Belfast Trust last year.
The review team had been told to focus mainly on how accident and emergency care is delivered in local hospitals.
It will be made up of academics and health professionals from the public and private sector.
When Mr Poots took up his post less than two months ago, he said there was no time to waste in tackling the issue of how acute care should be delivered.
There has been much debate about whether the number of acute hospitals should be halved to just six.
Reducing the number of acute hospitals is backed by most health professionals, including consultants who argue that a more streamlined services would deliver a more efficient and safer healthcare system.
The most controversial area will be the reorganisation of accident and emergency services in Belfast.
It is expected that either the City Hospital or Mater Hospital will lose its unit.