I'm a boxing champ's daddy - but I still have no clout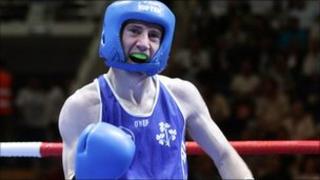 His fighting son has his eyes on another Olympic medal: her cycling sister has the same high hopes. But even close family can't get their hands on tickets for the London Olympics.
Patrick Barnes, father of boxer champion Paddy, said being a blood relative carries no clout when it comes to the tickets website.
"When we went to Beijing there was an official company that allocated tickets," he said.
"There were preferences given to families of athletes."
Mr Barnes said none of the Irish boxers had heard of a family and friends link for tickets for the Olympics. He said as far as he understood it, no athletes had qualified as yet, so that might change when they do.
"I am expecting that when athletes do qualify, there will be some sort of preference. At the moment, I am not concerned about tickets, I am concerned about Patrick qualifying."
Cyclist Wendy Houvenaghel took silver at Beijing. Her family were on the sidelines cheering her on. But her sister Janice Magee is in a similar predicament over the tickets for London 2012.
"Myself, my brother, my sister and my mother all put in separate applications for tickets," she said.
"But we have yet to get any allocation of tickets."
She said she was not aware of any family link on the website and were trying to go through the process along with everyone else.
For Wendy, having us present makes a big difference, she said.
"We are Wendy's biggest fans," she said.
"We are dead keen to see her there. At Beijing, how important for her that we are there. It makes a lot of difference to their attitudes and puts everybody's minds at rest."