Legal aid lawyer withdraws from Newry drugs case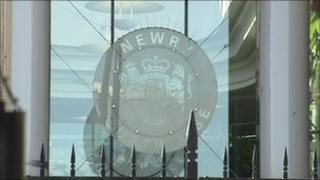 The first solicitor to sign up to work under new reduced legal aid fees has withdrawn from a drugs case.
Lawyer Gary Bell told Newry Crown Court on Friday that he could not proceed with a bail application for David McKenna, 22, of Newry Street in Markethill.
He said he had made strenuous efforts to find a barrister to represent his client, but without success.
Mr McKenna denies eight drugs-related charges.
A previous hearing was adjourned when the judge heard neither his counsel nor his instructing solicitor David G Bell Solicitors, had read the case papers.
The arraignment had to be adjourned again a week later, when Mr Bell appeared to inform the court that his counsel, with the agreement of the defendant, wished "to retire from this case".
Mr McKenna made his own bail application on Friday, which has been adjourned for a week.
He is just one of a number of defendants who have been left without legal representation following a decision by the group of solicitors who would normally appear in criminal cases, to withdraw and refuse to handle such cases.
The lawyers are in dispute with the Justice Minister David Ford and his lowering of the legal-aid fees paid in criminal cases.
The solicitors claim that they would not be able to provide a proper and adequate legal service to any of their clients if they were to attempt to operate under the new fees structure.
While the solicitors claim they are "not on strike", they say that they are simply not taking on any such cases again in light of the new guidelines as set out by Mr Ford, and nor are they in a position to do so.