East Belfast riots: Police say 16-year-old was shot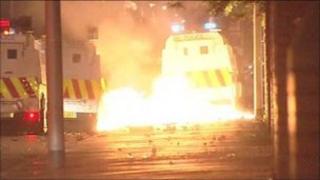 Police have revealed that a 16-year-old boy was one of two people shot during trouble in east Belfast in the early hours of Tuesday morning.
A PSNI spokesperson said the youth was shot at 0036 BST. A 25-year-old man was shot in the foot just after midnight.
Both were shot in the Lower Newtownards Road area.
Area commander for East Belfast, Chief Inspector Mark McEwan, has appealed for witnesses to come forward.
Trouble at the Short Strand interface has been described as the worst in the area in a decade.
Police have said the violence was orchestrated by the UVF and both loyalists and republicans had fired shots during the unrest.
"Significant public disorder was taking place in the early hours of Monday morning in the Lower Newtownards Road and Short Strand area," Chief Inspector McEwan said.
"At 2355 police received reports of gunfire which resulted in two males being shot.
"At present we are treating both of these incidents as attempted murder."
Police have also made a number of appeals in relation to other incidents on Monday and Tuesday.
Reports that a cyclist who inadvertently came upon the disorder on Monday was struck on the back of the the head and then assaulted by masked men.
He was taken to hospital with a head wound and cuts to the rest of his body following the incident at the junction of Albertbridge Road and Mountpottinger Road.
Reports a man had been assaulted in the grounds of St Matthew's Church on the Newtownards Road. It is understood he is in hospital being treated for a fractured skull.
The shooting of a press photographer who was hit in the leg just before midnight on Tuesday.
Police have said a number of items relating to the incidents have been been removed for further forensic investigation.
A team of investigators is reviewing all CCTV footage available.