Gillian Robinson misses out on discrimination payout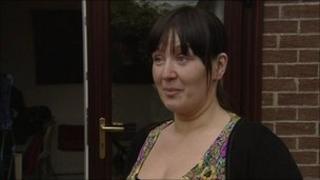 A Bangor woman who was awarded £27,000 in compensation for discrimination won't receive any money because the company she worked for has gone bust.
When Gillian Robinson was pregnant with her two-year-old daughter, her boss Michael Neill, aware that she previously miscarried, implied that he needed to arrange maternity cover quickly in case she had another miscarriage.
He also used crude language, one of a number of factors which forced her from work.
She sued for discrimination and won compensation.
While she has not received any of the money, she is happy that she won her case.
"I want to say to people out there if you're being treated like this, stand up to them, because they have no right to treat you like that," she said.
"I won't see a penny of it and I'm happy to tell people I won't see a penny of it.
"It's money I never had - so what, I've got my kids. I have more than he'll ever have and I can hold my head up and say that I would never treat someone like that."
Michael Neill now owns the Fat Cat bistro in Ballyholme.
When contacted, he did not make any comment.
The outcome is galling for Gillian Robinson but it is not illegal and it is not an isolated case.
"It definitely is a growing problem," said Caroline Maguire from the Law Centre.
"We are getting more and more calls from people who have had successful claims at the tribunal, have received an award but are unable to enforce it because their employer isn't solvent.
"This is something we feel definitely needs to be addressed."