Bust firm Kilbright Development had mortgages on jets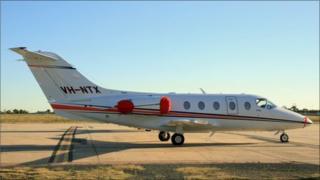 A Belfast property company which has been placed into liquidation once had mortgages on two private jets, it has been revealed.
Kilbright Development, owned by businessman Paul Neill, was the subject of a High Court winding-up order earlier this month.
The planes were a Hawker 400XP and a Hawker 850XP.
It is understood that the mortgages were satisfied sometime ago although the relevant filings had not been made to Companies House.
Mr Neill lives near Portaferry in County Down.
The firm's other assets were sites in Belfast city centre and Hillsborough in County Down. These were also sold some time ago.
The mortgages for the planes were advanced by Bank of Scotland Ireland (BoSI) in 2007 and 2008.
BoSI was a major lender to developers during Ireland's property bubble.
One of its niches was aviation. It lent money to property firms Jermon and Taggart Holdings to buy helicopters. It has since repossessed the aircraft in both those cases.
BoSI suffered catastrophic losses and has been closed by its parent company, Lloyds.
BoSI's loan book is now being managed by a company called Certus.
Earlier this year Anglo Irish Bank appointed receivers to two retail parks in Bangor that Mr Neill owned via another firm, Turnstile Developments.
The receivers' report indicated that Turnstile Developments owes the bank at least £37m.