All churches in the same boat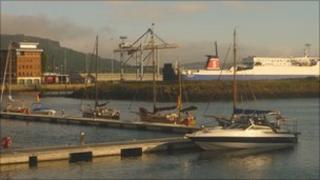 The launch of a new floating church in the Titanic Quarter of Belfast has moved a step closer.
A business plan for the £700,000 cross-community venture, entitled The Dock, has been published.
It outlines a three-point plan for a large boat on the River Lagan which would include a chaplaincy centre, a community hub and a cafe
The venture is being spear-headed by the Reverend Chris Bennett, who was appointed chaplain to the Titanic Quarter in 2009 by the Church of Ireland.
"To avoid being identified with one community or another, this shared space will be something radically different to the familiar church buildings of all traditions - a boat moored in the heart of the Titanic Quarter," he said.
"Each denomination will be invited to provide a chaplain to the boat, just as they currently provide chaplains to work in shared spaces in universities and hospitals across Northern Ireland."
Those involved in the project are trying to identify a suitable vessel - a passenger ship or riverboat - in the price range of £200,000-£450,000.
Sense of community
Once they find the right boat comes an even bigger challenge - raising the cash to pay for it.
The floating church is designed to add to the sense of community in the Titanic Quarter.
It already has a number of businesses, a hotel, hundreds of apartments and will soon have thousands of students when the new campus for Belfast Metropolitan College opens.
It is part of the largest waterfront redevelopment in Europe.
The hope is that tourism in the area will continue to grow with the opening of the Titanic visitor attraction next year, just in time for the 100th anniversary of the ship's sinking.
The Titanic Quarter is in east Belfast, not far from where a sectarian riot broke out last week.
The Rev Bennett said: "The Titanic Quarter is built on neutral ground. It is an area of land which was not fought over or owned by either side of the political divide.
"It represents a chance to build a new kind of community in Northern Ireland, to enact the shared future from day one."
Rather than each of the main denominations building their own church in the area, the idea of the floating church is to allow them all to be in the same boat - literally and metaphorically.