Carrickmore GAA club investigate Simon Brady 'knockout'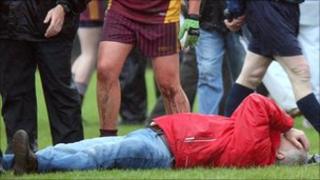 A ladies' Gaelic football club is conducting an investigation after a referee was knocked out during a match.
Simon Brady was struck shortly after the final whistle in the Tyrone senior final between St Macartan's and Carrickmore in Beragh on Friday.
In a statement Carrickmore said: "If the Ladies County Board decide the incidents merits an official investigation we will cooperate fully".
It is understood the PSNI is also investigating.
Another official who went to Mr Brady's aid, Martin Conway, was head butted and suffered a broken nose.
'Fairly flush'
Mr Brady said those responsible had no place in the game.
"I blew the whistle about 30 seconds from the end of the game to give a 20m free kick to St Macartan's. It was the decisive score," he said.
"I went to make a few few notes in my book as I would normally do at the end of the game.
"I got a tap on the shoulder and there was a man wanting to shake my hand and that is the last thing I remember."
Mr Brady said he had been caught "fairly flush" between the cheekbone and the eye and had been unconscious for between five and six minutes.
When Mr Conway saw what was happening, he tried to intervene but was himself assaulted.
Both men were taken to Erne Hospital in Enniskillen.
Mr Brady's 18-year-old son was umpiring the game and had to contact his mother to tell her what had happened.
Condemnation
The attacks have been condemned by the administrators of the ladies' game in Tyrone.
They held an emergency meeting on Monday night and a committee was set up to investigate the incident.
The clubs involved have agreed to fully co-operate and the findings are expected early next month.
Carrickmore said they were aware an incident had taken place and said they were carrying out their own investigation.
St Macartan's, who are based in Augher, have not yet made any comment.
Mr Conway said he was angered and saddened by the attack.
"People involved in this have no place in the GAA, no place in the ladies' football association and no place in sport," he said.
"They don't deserved to be in the sport."
Mr Brady said he had considered his role in the game following the attack but wanted to continue to offer what he could to the development of gaelic games in the county.
BBC Northern Ireland GAA presenter Austin O'Callaghan said ladies' football was a quickly growing sport across Ireland and particularly in Tyrone.
The two clubs involved in the final on Friday had enjoyed a "keen rivalry" in recent years, he added.