Irish elk antlers auctioned in Kilkenny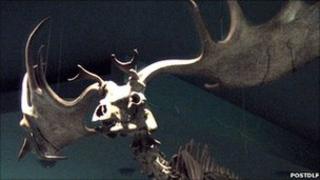 An ancient Irish giant found in a coal shed is up for auction in County Kilkenny next week.
The skull and antlers of a megaloceros giganteus, or Irish elk, sat gathering dust for years until the owner recognised its true nature.
Despite its name, the Irish elk was found all across Europe, Asia and North Africa, and is technically a deer rather than an elk.
It is famed for the size of its antlers, which spanned up to 4.3m and weighed 45kg.
These giants died out towards the end of the last ice age, approximately 11,000 years ago and the remains could be up to 12,000 years old.
The owner, who wishes to remain anonymous, described the discovery as "like finding treasure in the attic".
"I came into possession of the antlers after I purchased my family home a number of years ago. The antlers were in a shed on the property where they hung largely ignored gathering the dust and detritus of time," the owner told the Irish Times.
Rare
"It was an article published in The Irish Times relating to the sale of giant Irish deer antlers which drew my attention to them again.
"And they attracted my full undivided attention after the Natural History Museum confirmed their species of origin . . . really it was like finding treasure in the attic."
Auctioneer George Gerard Mealy has valued the remains at between 4,000 and 6,000 euros (£3,500 - £5,300), but such items have sold for much more.
In April, a larger set of antlers, measuring just over 3.3m wide sold for 35,000 euros (£31,000) at Mealy's Fine Art Auction in County Cork.
In 2001, Christies auction house in London sold a 2.9m pair of antlers for £52,875.
Mr Mealy said Irish elk remains were quite rare and would only appear on the market three or four times in a decade.
"The fact that they survived at all makes them valuable. Most of these end up in museums," he said.
"So to have an 11-12,000-year-old museum quality piece hanging on your wall has quite a cache."
The skull and antlers will be auctioned at Mealy's saleroom at Castlecomer, County Kilkenny, on 5 July.