Poleglass shooting victim needs surgery says father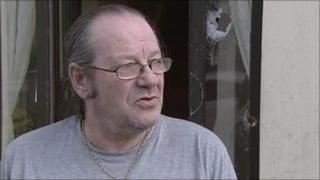 The father of a man shot in west Belfast said his son needs surgery to remove pellets from his neck.
The shooting happened at the family home in Glenbawn Link, Poleglass. Shots were fired at the front door at about 2040BST on Monday.
A 56-year-old man is being questioned about the attack.
James Bingham, who is 36, is being treated in the Royal Victoria Hospital in Belfast.
His father George said they had just finished dinner when it happened. "I heard the bang and then he was lying on the living room floor," he said.
Panic
"He said to me, 'Dad they shot at me, shot me in the back of the head', and then bang, another bang and he said, 'Dad, Dad they're still out there".
"My wife said to me, 'don't be panicking', but when I went to the door they were away."
Local Sinn Fein councillor Stephen Magennis said residents told him that when the gunmen could not gain access to the house, they fired shots through the door at the man.
He said children were playing in and around the area at the time of the shooting.
"Clearly there was no regard for their health or safety at all," he said.
Motive
"As far as I am aware the shots were fired indiscriminately through the door, so they had no idea where those bullets could have ended up, and there were children playing very close to where the shooting happened so they could have been injured."
Mr Magennis said there was "no clear motive at this stage".
"I've been speaking to local residents and nobody seems to have a clear motive of exactly why it happened," he said.