Derry parents jailed for cruelty against two daughters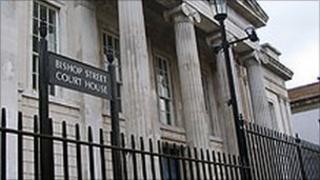 The parents of two girls aged under three have been jailed for child cruelty by neglect after the children were found locked in a room in their Londonderry home.
The girls were naked and soiled when police called at their home in August 2009.
Their parents pleaded guilty to child cruelty by neglect at Londonderry Crown Court on Monday.
Their father was jailed for nine months while their mother was jailed for six.
The neglect came to light after police officers called at the house to execute a court summons on their father.
A police officer told the court that he was only able to open the room door by about 12 inches because there was something inside preventing it for being fully opened.
He said there was an "overbearing" smell coming from the room when he opened the door and when he looked down he saw two small children who were naked with faeces on their legs, arms and bodies.
Stained mattress
A social worker was then called to the scene.
The prosecution told the court that there was a heavily-stained mattress in the children's room and the room itself smelt stale and mouldy.
When a police officer examined the mattress a "cloud of bluebottles" came out of it.
Judge Desmond Marrinan said one of the few mitigating features of the case was that there was no evidence of malnutrition.
He said it was "hard to imagine" that anyone, however difficult their lives, could allow children to live in such squalor.
He said that one of the psychological patterns which has impacted on both children is that they can no longer be kept together because they "cannot tolerate each other".
The defence counsel for the parents, who cannot be named for legal reasons, said the neglect started when the children's father developed alcohol problems and their mother became depressed with her third child and had difficulty coping with her two daughters.
The children are now in separate foster homes awaiting separate adoption proceedings.
Both parents pleaded guilty to two charges of child cruelty by neglect over an eight month period.
The girls' father was jailed for nine months.
Shocking
Their mother broke down and sobbed when she was jailed for six months.
Judge Desmond Marrinan also banned both parents, who cannot be named, from unsupervised work with children for a period yet to be determined.
He described the case as "sad, shocking and tragic".
"These young children, indeed infants, were clearly subjected to a period of profound neglect and emotional abuse," he said.
"The damage to them is potentially significant."
He said the idea of deliberately locking children in a room so they do not receive the nurturing they need was "cruel, damaging and emotionally dangerous"
The judge also told the court that confidential files from the relevant agencies proved beyond doubt that there could be no criticism of the health authorities.